Citywire printed articles sponsored by:


View the article online at http://citywire.co.uk/money/article/a667179
'Troika out!': how Cyprus' rallying cry could inspire euro revolt
A bank run is not all the European authorities should fear from Cyprus. Their inept handling of the crisis could spread the contagion of revolt.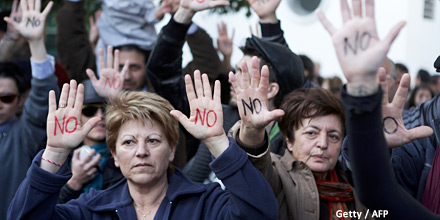 Robert Kyprianou, a Citywire columnist and former chief investment officer at AXA Framlington Investment Management, gives a personal opinion on the crisis in Cyprus and what it means for the eurozone.
Molon Lave moment
Guarding the route to Athens and the Peloponnese at the head of his 300 fellow Spartans on the narrow passageway of the cliffs of Thermopylae, King Leonidas, in response to Emperor Xerxes' demand that he give up his soldiers to the million strong Persian army, replied, 'Come and get them.'
On Tuesday night, in answer to the troika's controversial bailout demands, the Cypriot Parliament had its 'Molon Lave' moment. Under extreme pressure to accept a deposit levy as part of a bailout package or be forced into national bankruptcy, 19 MPs abstained, 36 voted 'oxi' and not one voted 'nai'. Instead they gave their President the mandate to find a 'third way' out of the crisis.
How did we get into this situation? Three weeks ago I wrote:
'...Cyprus has the potential to be the mouse that roared in this euro crisis. The scale of the problem is small by European standards, yet it is the most intractable. Unlike the other troubled periphery countries, its banking system and government went bankrupt at the same time. The scale of the funding required to sort both out is so large in relation to its economy that no troika funding on commercial terms is sustainable – as the International Monetary Fund continues to point out. And here lies the dilemma – either the troika go soft on Cyprus, which opens the contagion floodgates for the big boys on the periphery, or it inflicts a plan that has no credibility with markets, with some proposed measures, such as a haircut on bank deposits, trigging massive capital flight all around Europe.'
Ambush on Anastasiades
It is now clear that instead of investigating options available to Cyprus to supplement troika bailout funds – and there are options, such as selling profitable national utilities, mortgaging future promising hydrocarbon revenues – the troika, and especially Madame Lagarde, became fixated on Cyprus' outsized deposit base, inflated by large foreign holdings, especially from Russia and the Ukraine.
In what can only be described as an ambush, Cyprus' new president, Anastasiades, was blackmailed last Friday evening in Brussels into accepting a levy on bank deposits. Implement the levy or the European Central Bank would withdraw with immediate effect the emergency liquidity assistance to Cyprus' second largest bank, the crippled Popular Bank (Laiki). This would undoubtedly have caused a bank run on Cyprus' largest bank, the Bank of Cyprus (BOC), also near insolvency, as well as all of Cyprus' other banks. This would be financial Armageddon as the Cypriot government had no funds to bail out its troubled banks or honour the deposit insurance in case of bankruptcy.
Greece bailout hurt Cyprus
There is anger in Cyprus. After all, how did our banks get into trouble in the first place, they ask? Unlike Spain or Greece or Italy or Portugal, Cyprus has no competitiveness problem. Unlike Ireland there is no bloated lending to fuel a highly speculative property boom. Rather, the BOC and Laiki, Cyprus' two largest banks accounting for 45% of the banking deposits, were driven into insolvency by past troika acts. The Greek government PSI deal, where private bond holders were forced to take a huge haircut on Greek government debt, crippled the equity of these two banks that had operations in Greece and held Greek debt. The Greek PSI was such a disastrous policy that the troika has promised it would be 'unique' to Greece and promised never to do it again.
Furthermore, they ask in Cyprus, where are the promised institutions that the eurozone said would be set up to deal with banking and public debt crises. Specifically, where is the European banking union and the European Monetary Fund that were supposed to provide European wide solutions to local emegencies without the need of going to German or Finnish or Dutch Parliaments every time there is a crisis? Europe's policymakers have not got their act together and instead set policy based on what will pass the German parliament.
Where is the solidarity?
Finally, they ask in Cyprus, where is the European solidarity that was supposed to underpin membership of the European Union in general and the eurozone specifically?
They see themselves as victims of past troika follies, of the failure of European mandarins and policymakers to put the right structures in place, and of the persistent inability of EU leaders to do the right thing in dealing with each phase of the Euro debt crisis. And now they are being asked to adopt perhaps the troika's greatest folly – a levy on deposits that would undermine the very banking system they are trying to save.
It is hard to disagree. Just when you think the EU's political leaders could not sink any lower in their dealing with the euro debt crisis, they prove us wrong. It seems that the only thing that is certain in this world is that if they can make the wrong choice they will do so.
Cyprus could leave the euro
So what is the 'third way'? This morning Cyprus will explore a range of options to plug the €5.8 billion funding gap. The finance minister is in Russia to seek help. Once a friend of Cyprus, it is by no means certain that Russia will want to be part of a troika deal when its citizens were clearly the target of the troika deposit levy proposal. And it is by no means certain that the troika will want to be in partnership with Russia in bailing out one of their members when it is clear that they see Russians as money launderers and tax evaders.
Cyprus will also look internally – there is talk that they will nationalise the state pension funds, probably in return for IOUs against future gas revenues. This could raise €2-3 billion. And there are the profitable telecommunications and electric public utility companies – once considered taboo for sale, but events have moved on. However, a spokesperson for Disy, the president's party, following the vote said that if Cyprus could not find a way acceptable to the troika or Cyprus, it would have to leave the euro. The genie may be out of the bottle, the stakes are high and go way beyond this tiny island. Who will blink first?
Damage is done
Unfortunately for Cyprus the damage is done. Cyprus' banking system will face serious capital flight as soon as they dare to open the banks again. I am on the board of one such bank – Eurobank Cyprus. We are proud of how this bank has been managed. It has a tier one capital ratio of 25% – the envy of banks in Germany, France and across Europe. It has a loan to deposit ratio of 50% – no bloated, leveraged loan book. It has negligible non-performing loans. It passed bond fund manager Pimco's independent diagnostic review of Cyprus' banks with flying colours – no need for bailout funds here. And it was a safe haven for depositors who wanted to flee Cyprus' two largest troubled banks.
Now our depositors have been asked to take a haircut in order to recapitalise Laiki and the BOC. As soon as the doors reopen our customers will not differentiate good from bad banks – whatever Cyprus now does, they are simply likely to turn their back on the country all together. Cyprus has two pillars to its economy – tourism and international banking services. In a single act of madness, the troika has destroyed one of these. Faced with banking disintegration from capital flight, how did the troika believe that Cyprus would ever be able to pay back its bailout loan?
Cyprus' rallying call
It ended badly for Leonidas and his Spartans all those years ago. But their bravery bought time and inspired their fellow Greeks to rise up and beat back the forces of outside tyranny. This will end badly for Cyprus, whatever path they now chose. However, from the first early hours of Saturday morning when the troika's modern day tyranny was first revealed, wherever Cypriots gathered to protest the proposals they are united around one national rallying call: 'Exo e Troika apo tin Kypro' or 'Troika out of Cyprus'. Could this become the rallying call across peripheral Europe as Europe's leaders continue to fail its people?
Sponsored By:
More about this:
Archive
Today's articles
Tools from Citywire Money
Weekly email from The Lolly
Get simple, easy ways to make more from your money. Just enter your email address below
An error occured while subscribing your email. Please try again later.
Thank you for registering for your weekly newsletter from The Lolly.
Keep an eye out for us in your inbox, and please add noreply@emails.citywire.co.uk to your safe senders list so we don't get junked.